IN FESTY NEWS….
Well folks, the music festival announcements have begun to roll out, but in some cases that is leaving fans with more questions than excitement. After months of radio silence, leaving fans to speculate whether or not the 2021 event would take place, The Peach Music Festival announced that their show will be happening "July 4th Weekend 2021 | Montage Mountain – Scranton PA." Earlier this week, after almost a year to the date since their last post, Peach Fest's social media platforms delighted (and frustrated) the interwebs with a cryptic announcement, that comes less than 8 weeks out from the show: "COMING SOON TO A MOUNTAIN NEAR YOU."
But what exactly does this mean? And who is playing?!! While we won't speculate on lineup, for people who live for festival preparedness like us, we wanted to dig into the rumors and share our findings with you.
LIVESTREAM RUMORS
The way this announcement is worded: "Coming to a mountain near you" has been met with confusion and rumors that the show will be a virtual event. We certainly understand and empathize with your concern. We have also had our fill of livestreams, and anxiously await the return of real-life, in-person festivals! To get to the bottom of it, we decided to look into it and see if this rumor had any credence.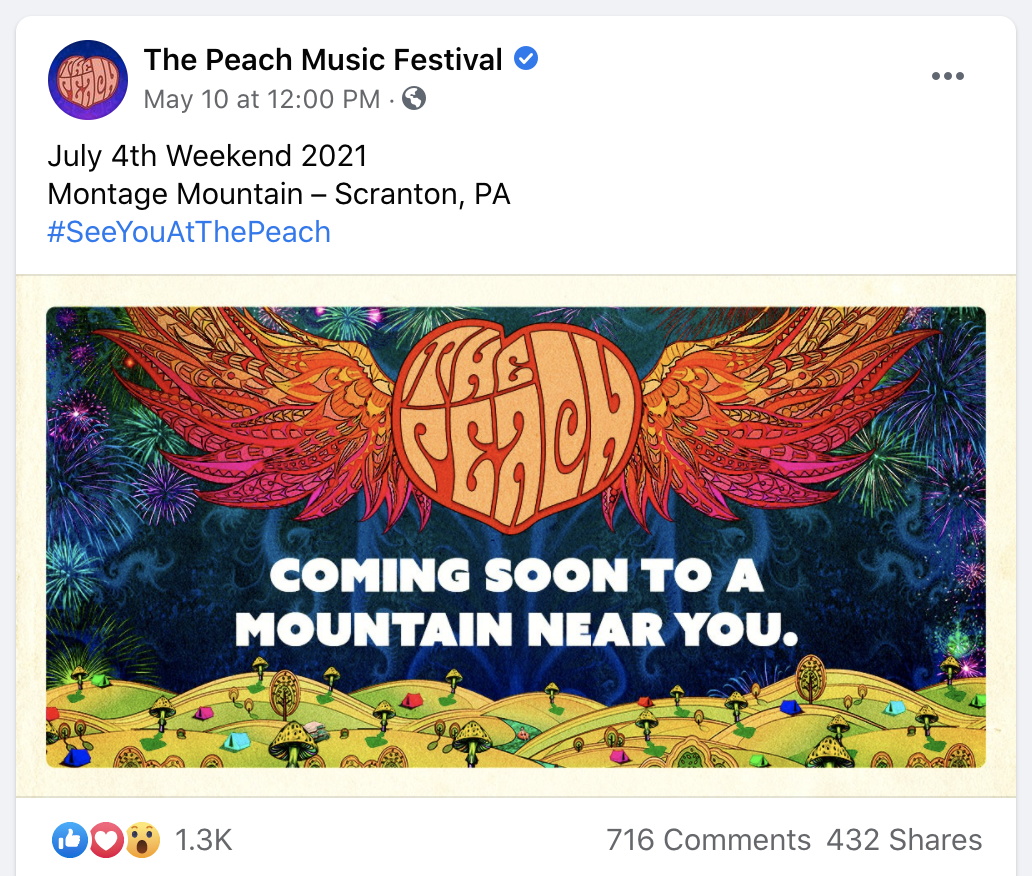 Heading over to thepeachmusicfestival.com did not immediately answer any questions and for a year when people have so many questions, it is a bit surprising that there is not more information readily available on the homepage, but we kept digging. Amazingly, 2021 Camping and RV tickets are available for sale online which answers a big and important question when it comes to planning: there WILL be camping!
The details for camping and concert passes seem consistent with previous years, suggesting an unusual return to normalcy. In a post covid world, the question of show format is front and center and this announcement and the initial website research does not necessarily answer that question definitively, but the information available for the various festival and camping passes do not suggest in any way that this will be a pod show or a drive-in concert. This excerpt from their Festival Passes Info is similar to shows in the past:
"4-Day Reserved Passes provide you a reserved seat in the Pavilion 100 level during headlining acts & the artist directly before the headlining acts. Prior to the those performances, everyone will have access to the 100 level except for a small portion that is reserved for a VIP viewing area. During the headlining performances, a 4-Day GA Pass will get you access to all remaining areas of the concert venue except for the 100 level and VIP areas."
PREDICTING A HYBRID LIVESTREAM: The new standard?
While we're not sure if the wording of the announcement is meant to suggest a possible virtual format, we do expect there to be a livestream component nonetheless. It has afterall become a standard for venues and festivals across the world, and something that people have come to expect. The hybrid livestream experience is set to become a norm for festivals going forward. Having already been popular pre-covid, and with many organizations having made their foray into the virtual streaming world because of covid, we don't see them dropping this technology once the in-person events come back. Virtual events are here to stay. There will always be people who can't attend or who live too far away; and as things open up, people are remaining sensitive to those who are not ready or able to participate in large gatherings.
All signs point to a Peach Fest Experience much like those in the past and we can't even begin to tell you how exciting that is!!!
We hope this article helps dispel some angst regarding the format, and while we understand the frustration from not knowing more details (including the full lineup) less than 8 weeks out, we are just excited to be thinking about shows again at all! The hope and possibility for the future is bright and we hope you'll join us in looking on with wonder and amazement as our glorious industry opens back up – in whatever form that takes.
Oh yeah and did I mention Phish just announced their summer/fall tour dates? Stay tuned for more festy news and share with us all your hopes for the future.
Whatever you end up attending this summer stay safe and look out for each other! It's been so long since the music community could gather and do our thing and I hope it grows exponentially. It seems that there is a quiet revolution happening. We have met so many people this spring attending their first festivals ever! It may have to do with people being locked down and confined to their homes over recent times, but people are excited to get outside!
So don't be afraid to make a new friend and show someone the ropes, welcoming them into this magnificent community we call our music scene! Wishing you all the best for the summer of 2021 – it will be a festival season like none other and we hope to catch you along the way.