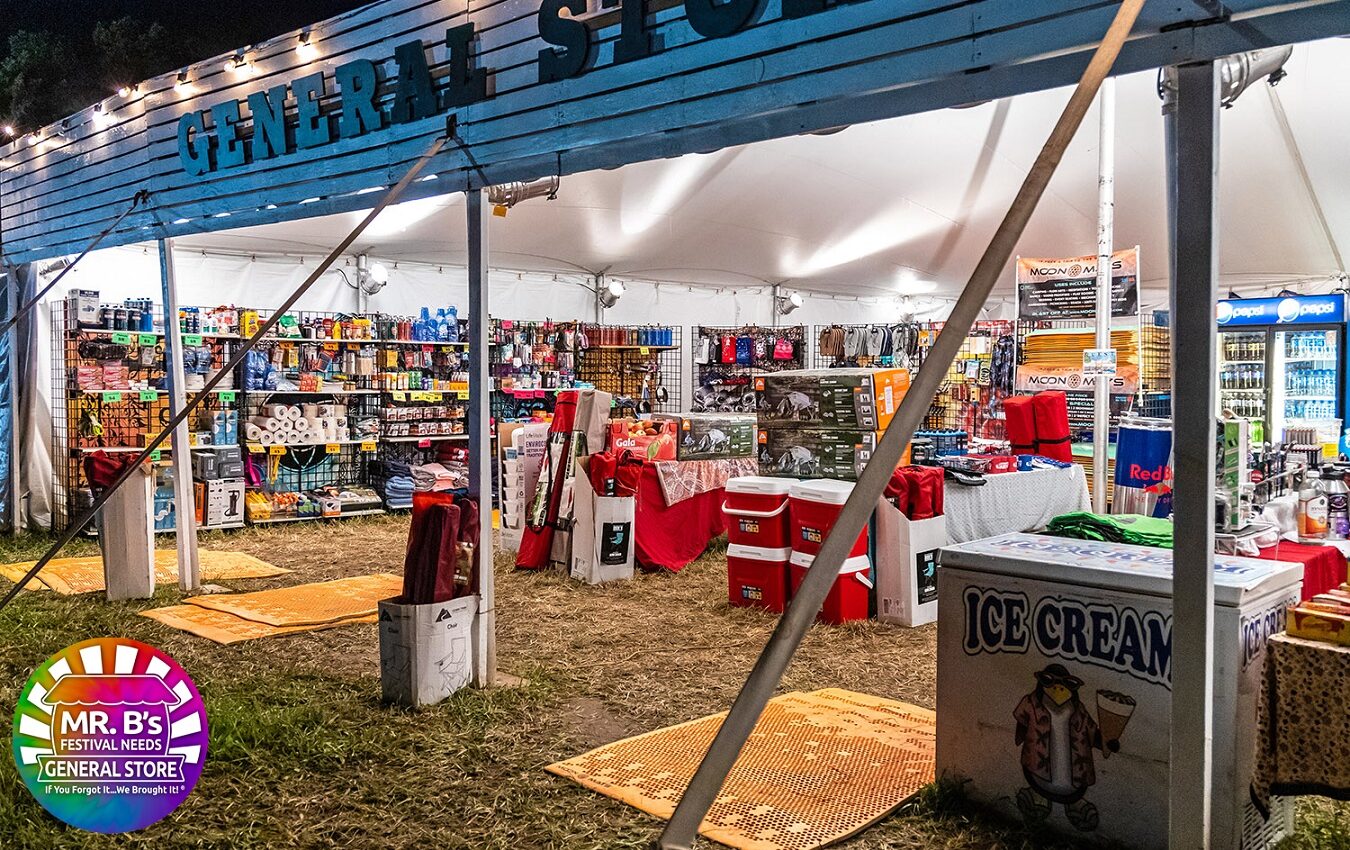 About Mr. B's Festival Needs General Store
Our Mission Statement:
"We strive to go above & beyond for every customer, providing quality products, expert guidance, and a level of customer service that makes their experience with Mr. B's truly exceptional."
"Your One-Stop Shop for Festival Essentials"™
Supplying festival needs since 2008
"If You Forgot It…We Brought It!!"®
We carry close to 1000 SKUs of various festival necessities and stay open 24 hours to ensure you can get whatever you need to enjoy your festival experience any time of day…or night. Our friendly staff members are here to help you find everything from camping supplies like pillows, tents, sleeping bags, ponchos, and flashlights to personal care supplies like soap, deodorant, toothpaste, toilet paper…..and so much more!
So next time you're in a pinch:
Stop By, Say Hi, and Grab Supplies!

The Story of Mr.B's Festival Needs:
Back in 2008, after having attended many music festivals and falling in love with the festival world and the culture it had to offer, Mr. B saw an opportunity to provide an important service for the festival community that was truly lacking. Although there were many vendors selling food, t-shirts, jewelry or glass art, nobody was providing any kind of General Store type of service. If you needed something essential, you either had to leave the festival, or just have to do without it for the weekend. And thus, Mr. B's Festival Needs was born.
Going into our 16th season, we have earned the reputation with both festival attendees and festival producers as the one-stop shop for festival essentials, and we now have the pleasure of providing our services at many of the major music festivals across the country including events like Firefly, Summer Camp, Something in the Water, Lockn', and Camp Bisco, as well as the camping events for bands like Phish, Mumford & Sons, Umphrey's McGee, and many more.
We are proud to be your General Store!
NEED A GENERAL STORE AT YOUR FESTIVAL?
We'd love the opportunity to add your event to our ever expanding list of annual festivals!
Where We've Been & Where We'll Be:
Our 2023 Schedule is continuing to fill up…check back for more updates soon!
Here's where we'll be over the next few months:

Subscribe now for news and special offers